Cruisers are some of the most comfortable bikes to ride. Their comfort is accredited to it's laid-back style frame, sit-up straight riding position and relaxed shoulder level arm height. We take this already comfortable ride to the next level with our electric cruiser, the Stunner. With an incredible range of more than 60 km (37+ miles) on a single charge, the Stunner will get you where you need to be and more. The 750W mid-motor has got more umph than most electric bikes in the market today.
Compare Frame Styles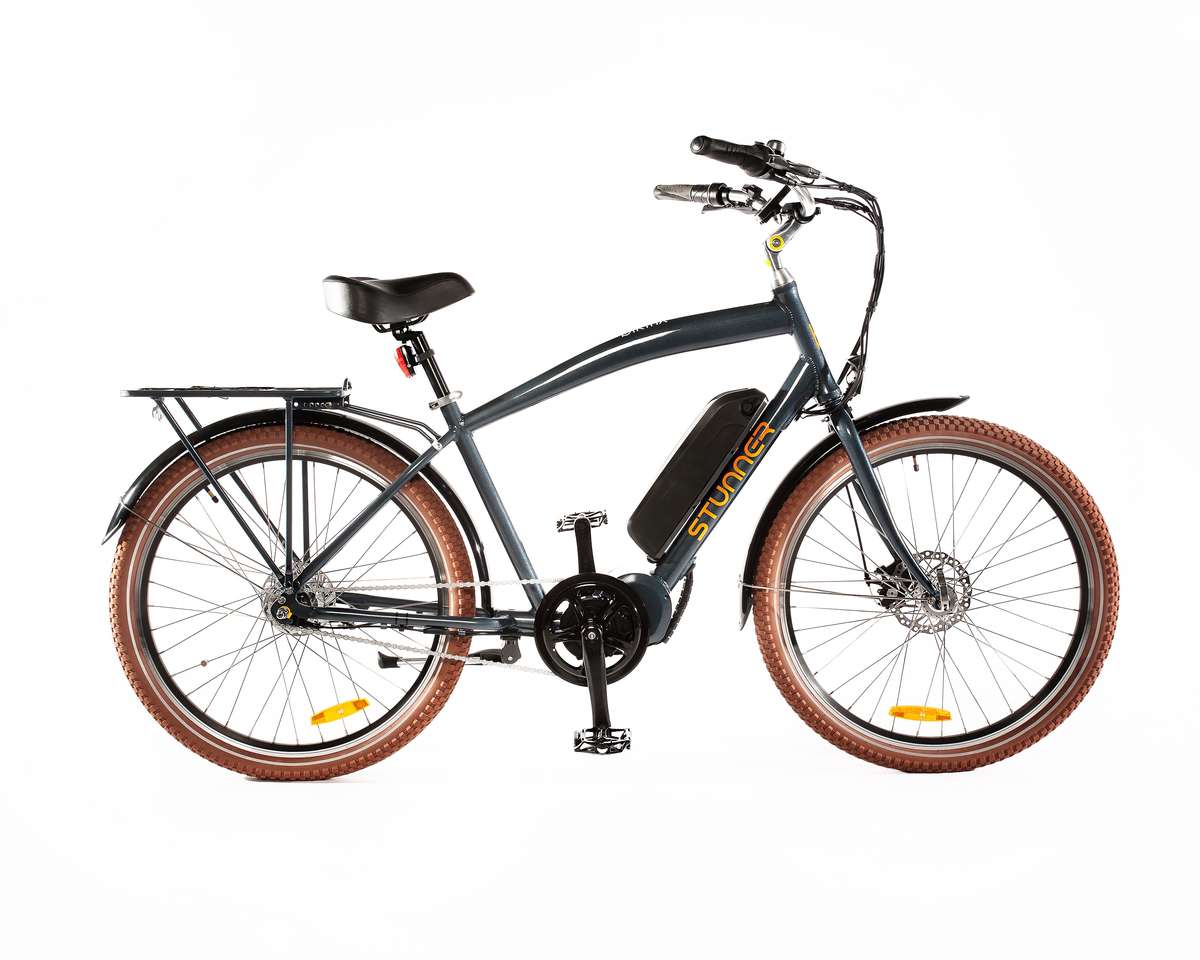 High-step or Step-over frame brings the classic cruiser style to the most comfortable riding position. This version of Stunner is very popular among men and women who don't mind swinging their leg over the seat to hop on and off the bike.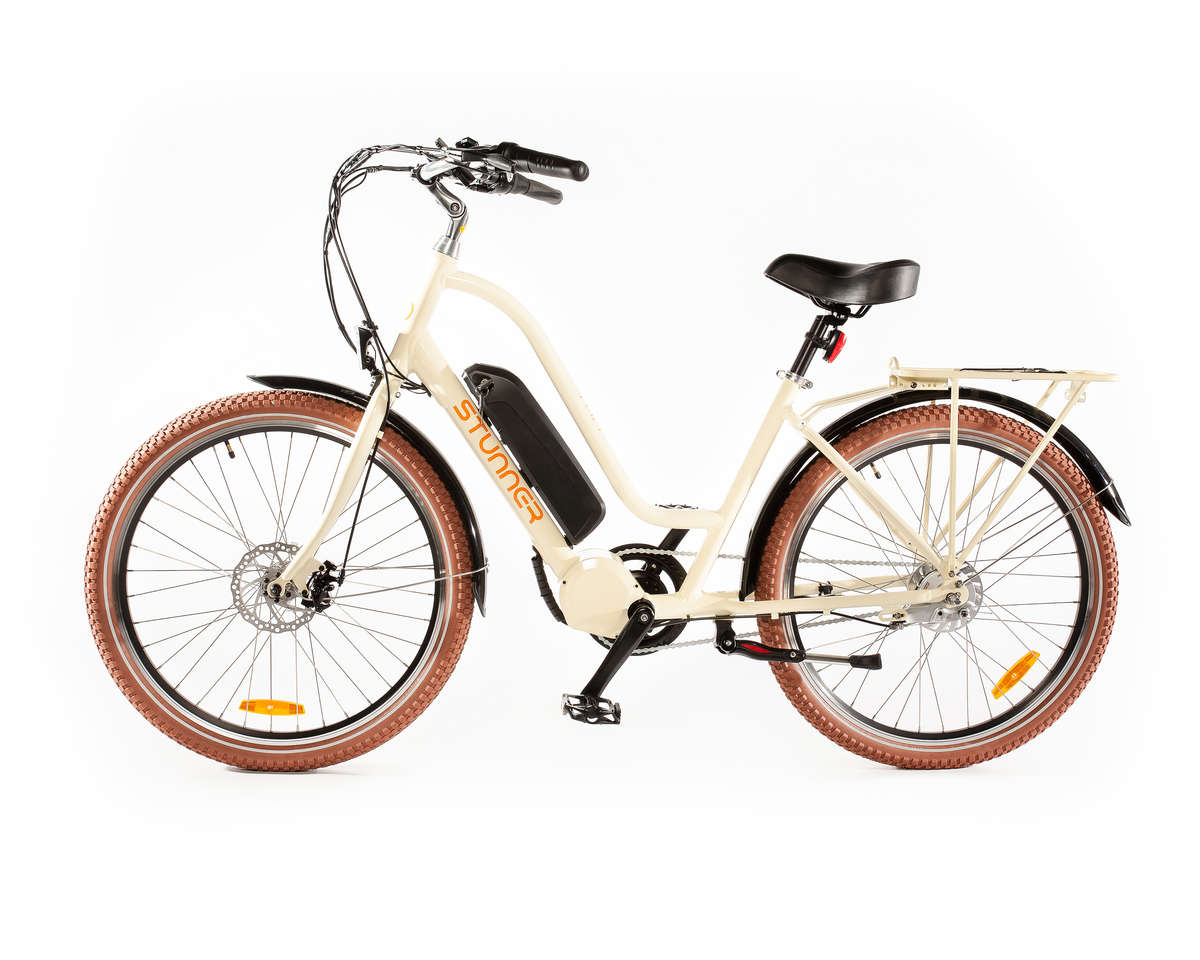 Low-step or Step-through frame is easy to step in and out of. This version of the Stunner is very popular among men and women who don't want to swing their leg up and above the rear rack and seat to hop on and off the bike.
Compare Motor and Battery
48V 750W motor with 48V 11.6Ah battery
Top Speed: 28mph
Range: 30-40 miles (mixed use PAS+throttle)
Battery Weight: 8lbs
On-demand throttle and 2A charger included
48V 750W motor with 52V 14Ah battery
Top Speed: 30mph
Range: 40-50 miles per charge (mixed use PAS+throttle)
Battery Weight: 10lbs
On-demand throttle and 3A charger included
Specs
Fully loaded weight | 50 lbs (22.67 kg)
Motor | 48V750W Bafang
Battery | 48V 11.6Ah/14Ah
Battery weight | 7 lbs (3.17 kg)
Motor weight | 8.5 lbs (3.85 kg)
Frame types | High-Step (Charcoal grey), Step-Thru (Pearl white)
Frame size | 19"
Frame material | 6061 Aluminum
Frame colours | Pearlescent Creme, Pearlescent Charcoal
Frame | fork Rigid
Attachment points | Fender Bosses, Rear Rack Bosses
Tube details | Schrader Valve
Gears | 7 speed internal hub Shimano Nexus gears
Shifter details | SIS Thumb Shifter
Pedals | Wellgo Aluminum Alloy Platform
Headset | Neco
Stem | Neco, Adjustable Angle
Brakes | Front disc brakes, Rear high performance drum brakes, Levers with Integrated Motor Inhibitor
Grips | Ergonomic, Rubber
Saddle | Velo Oversized Cruiser
Rims | Double Walled Aluminum, CNC Sidewall
Spokes | Black, Stainless Steel, 13 Gauge
Tire | Kenda, 26
Tire details | K-Shield Puncture Resistant, Reflective Sidewall Stripe
Accessories | Side-Mounted Adjustable Length Kickstand, Plastic Chain Guide, Bell, Independent LED Headlight and Backlight


Shipping
We offer free shipping on all our bikes across continental US and Canada.
US customers pay no duties, taxes or customs brokerage fee.
Canadian customers pay GST/HST/PST based on the province you are in.
We can ship our bikes worldwide.
The shipping rates vary from $350-$600 based on where you are located. Please email us at ride@biktrix.com for exact shipping rate.
Videos
How many 91 year olds ride 400+ km per month?
Henry Gilbertson from Saskatoon thinks every senior should!
Bike assembly is so simple, it's almost like it assembles itself.
The video that launched Biktrix Stunner back in 2015.
Fat bike comparisons:
Juggernaut Classic HD
Juggernaut Classic
Juggernaut MX Max
Juggernaut MX Ultra
Motor
Bafang BBSHD 1000W 
Bafang BBS02B 750W 
Bafang Max 350W 
Bafang Ultra 1000W
Max power from Motor
1500W
1200W
600W
1500W
Transmission
Deore 10S 
Altus 7S 
Deore 9S
Deore 9S
Battery
48V 11.6Ah
48V 11.6Ah
36V 17Ah
48V 11.6Ah 
48V 17Ah
Throttle
Yes
Yes
No
Yes
Pedal Assist (PAS)
Yes
Yes
Yes
Yes
Torque assist
No
No
Yes
Yes
Brakes
Mechanical Disc
Mechanical Disc
Hydraulic Disc
Mechanical Disc
Integrated front lights
Yes
Yes
Yes
Yes
Frame size
M - 18" frame
M - 18" frame
M - 18" frame
M - 18" frame
Aluminium Frame 6061
Yes
Yes
Yes
Yes
Suspension Fork
Yes
Optional
Optional
Yes
Wheel Size
26" x 4" 
26" x 4" 
26" x 4" 
26" x 4" 
Fenders
Yes
Yes
Yes
Yes
Weight
62
58
56
58
Other bikes:
| | | | | | |
| --- | --- | --- | --- | --- | --- |
| | Kutty | MonteCapro | Monte1000 | Stunner | StunnerLT |
| Motor | Rear Hub drive 350W | Bafang Max 350W  | Bafang BBS02B 750W  | Bafang BBS02 mid-motor 750W | LAX geared rear-hub motor 500W |
| Max power from motor | 500W | 500W | 1200W | 1200W | 750W |
| Transmission | Tourney 7S | Deore 9S | Altus 7S | Shimano 7SP Internally geared hub (IGH) | Tourney 7S |
| Battery | 36V 10Ah | 36V 13Ah | 48V 11.6Ah | 48V 11.6Ah 52V 14Ah | 48V 11.6Ah 48V 14Ah |
| Throttle | Yes | No | Yes | Yes | Yes |
| Pedal Assist (PAS) | Yes | Yes | Yes | Yes | Yes |
| Torque Sensor | No | Yes | No | No | No |
| Brakes | Mechanical Disc | Hydraulic Disc | Mechanical Disc | Mechanical Disc | Mechanical Disc |
| Integrated front lights | Yes | Yes | Yes | Yes | Yes |
| Frame size | S - 16" frame | M - 18" frame | M - 18" frame | M - 18" frame | M - 18" frame |
| Aluminium frame | Yes | Yes | Yes | Yes | Yes |
| Suspension fork | No | Yes | Yes | No | No |
| Wheel size | 20" x 1.5" | 27.5" x 2.3" | 27.5" x 2.3" | 26" x 2.3" | 26" x 4" |
| Fenders | Yes | No | No | Yes | Yes |
| Weight | 38 | 53 | 54 | 50 | 60 |