We can't thank you enough for supporting us and this project. With 367 backers across 8 countries, we are super excited to see how and where you'll take your Juggernaut.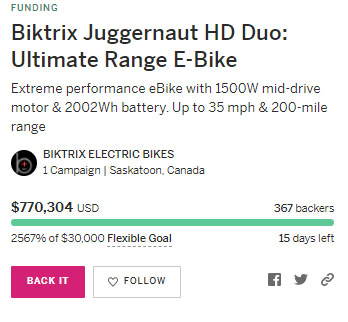 Stretch Goal Perks:
Get ready for the first stretch goal of the Juggernaut Duo campaign.
What's a Stretch Goal?
When the campaign hits a certain funding amount, we unlock a sweet new perk for purchase. In just a few short days you'll have access to get the most requested stretch goal to date. 
To thank you for joining us for this wild ride, we will be releasing this much requested sleek bike bell once the campaign hits $1 Million USD. We couldn't do this without your support and to us, you are part of Team Biktrix Duo. Big clunky bells are a thing of the past. Here is what this sleek yet loud bell looks like. This bell really sings: